Earlier this week we launched a new fire safety campaign on our high rise estates.
We've got 48 high rise tower blocks in Wolverhampton and the nightmare for every housing organisation or local council is that a tower block goes up in flames.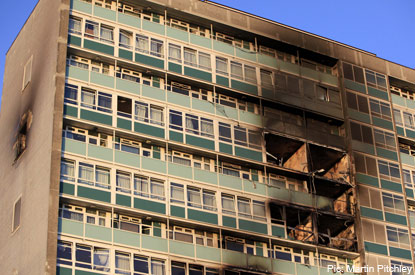 Lakanal House in 2009
The Lakanal House fire in Southwark in 2009 is a lasting reminder about how fires in tower blocks can be so dangerous. Six people died as a fire spread through a flat on the 9th floor. There were a multitude of failings that day.
The advice from fire safety experts is fairly simple - if there's a fire in a communal area in a tower block…stay put. We all know that our natural instincts are to try and get out but in these instances, unless you're told by the fire service to move – you should stay put.
That's because the flats were built to withstand fire. The concrete shells of each flat can withstand heat of several hundred degrees. And with the latest standard fire doors installed, the odds of the fire coming into a flat from a communal area is greatly reduced.
We've seen for ourselves how much damage fire can cause in a high rise block. Last year there was a fire in the communal lobby at Longfield House in Wednesfield. It's sobering viewing when you see the CCTV footage to think how quickly the fire spread and how lucky we were that no one was hurt – let alone killed.


Stay Safe. Stay Put.
We also saw a fire in another block of flats in Wednesfield last year. This was confined to one flat – but it really hits home about how important it is to have a plan for when fire strikes in your home.
So this week we're launching our Stay Safe, Stay Put message for tenants living in high rise blocks. Before we started the campaign we did a quick survey and this is what we found:
40% of people don't check their fire alarm weekly

Nearly half had never heard of the stay put policy
This tells me that there's still work or us to do.
That's why every high rise flat will be getting a leaflet, a sticker for their front door and a phone call over the next 6 weeks.
With people's lives at risk – it's so important we get that message out there.
I'll let you know how the campaign goes – but in the meantime, let me leave you with this footage from Longfield House…how long do you think it takes for the fire to spread?